They sharpen the face oval, improve skin tone, effectively oxygenate it, soften scars and smooth out lines, reduce wrinkles and make us feel younger and more beautiful. They are ideal for breast care. Colourful patches have already become an inseparable element of prolonging the effect in professional manual therapy treatments, but they can also be successfully used at home.
Kinesiotaping – dynamic plastering with the use of kinesiology tapes, works excellent in cosmetology. I have been practicing and recommending taping for many years at Facemodeling Academy. A few years ago, colorful patches evoked confusion and skepticism, but today it is one of the most desired "slow beauty" procedures in the world. How does it work and for who is it dedicated?
Before I answer these questions, I will give you a brief background on kinesiotaping. This method was created in the late seventies by Dr. Kenzo Kase, who as a chiropractor did not use drugs, but was looking for a method that would reduce pain. He desired to provide relief to his patients. After many years of research he created and developed his own method, which he called Kinesio-Taping. It was used mainly in rehabilitation of athletes.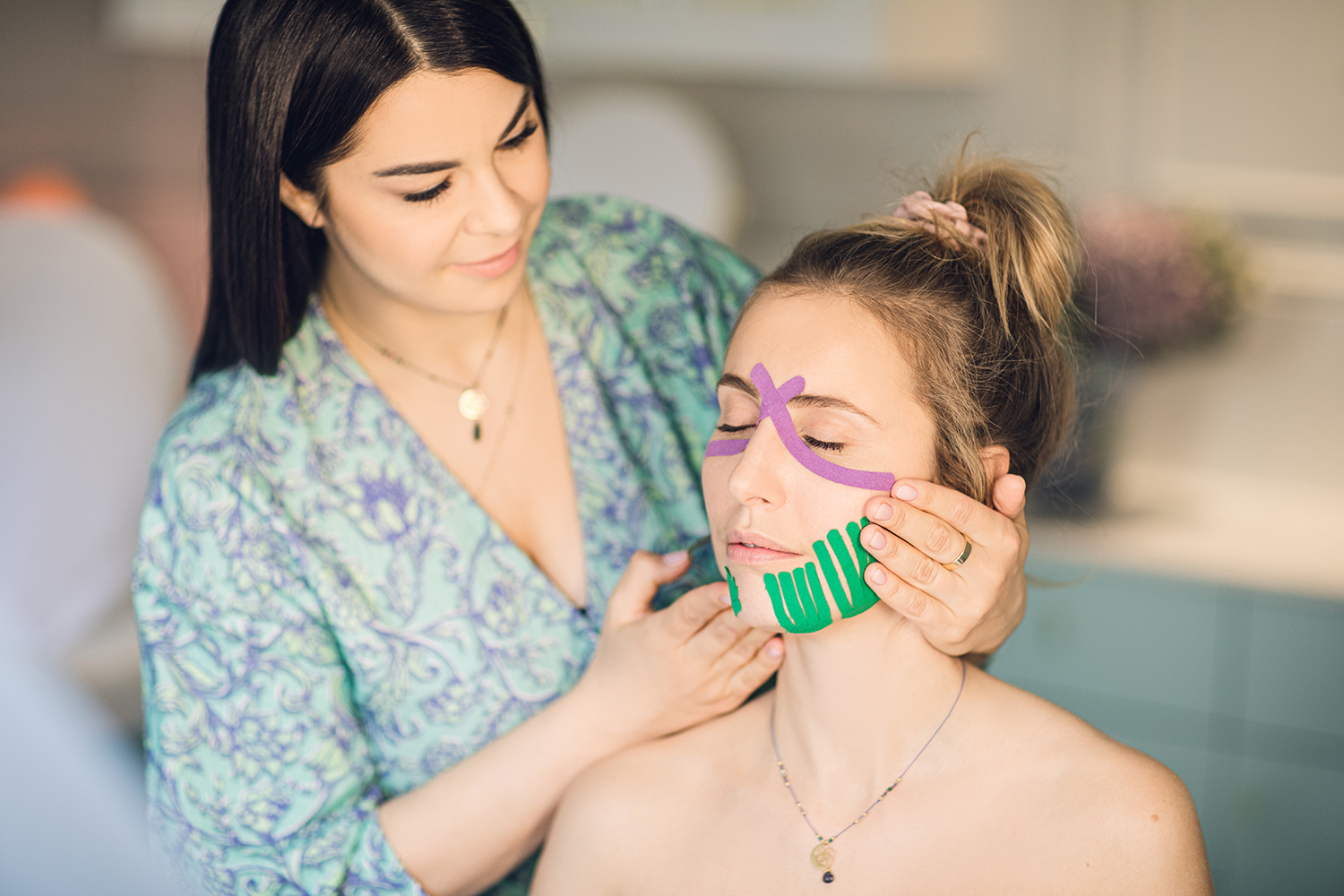 To feel younger and more beautiful
Facial taping is particularly suitable for people who are beginning to show the first signs of ageing. Both women and men can benefit from this method. Taping is also an excellent preventive measure. However, it is worth to remember that the emotions expressed on the face can always be softened, released through massage, but they are still an expression of our life.
Rehabilitation therapists use kinesiotaping as a method of relieving rheumatic or post-traumatic pain. In natural cosmetology, it serves a completely different purpose. It improves the appearance of the face, neck, cleavage or bust. Proper application of tapes influences: shaping the facial contours, skin regeneration, smoothing and reducing the appearance of wrinkles, improving skin elasticity and firmness, relaxing and getting rid of masseter muscle tension, which is caused by stress and negative emotions and can lead to bruxism and temporomandibular joint problems.
Aesthetic kinesiotaping relieves swelling and lymphatic stasis in the facial area, especially around the chin, eyes and center of the face.
Are there any contraindications to kinesiotaping? There are, but just a few. Mainly skin allergies that may occur after applying the tape. Inflammation, skin irritations and infections, vein thrombosis, fresh wounds and scars.
At home and in a professional wellness salon
BIO-esthetic kinesiotaping is now entering the salons and wellness studios.
It is worth exploring and learning the secrets of this method. It supports face lifting, helps to eliminate muscle tension, lymphatic stagnation in the face, neck and cleavage area, and it restores the proper breathing rhythm. It is an extremely effective and highly significant element of biological regeneration, an excellent form of aesthetic rehabilitation of face, neck, cleavage and bust area. A great method without which the rehabilitation or therapy of facial wellness becomes incomplete.
If you want to use face taping at home, at first you have to go to a specialist who will tell you how the process should be performed. Later, there is nothing to prevent you from doing facial taping in front of your own mirror.
Tapes can be applied to the forehead, eye area, cheeks, nose, chin and neck. When taped on the face, it should be left on for about 6 to 8 hours. The tapes stuck on the body can be used in the bath, but you can not use the sauna or tanning bed. Taped face should be protected from sunlight.
Face Taping is a great method, without which the rehabilitation or therapy of facial regeneration would be incomplete.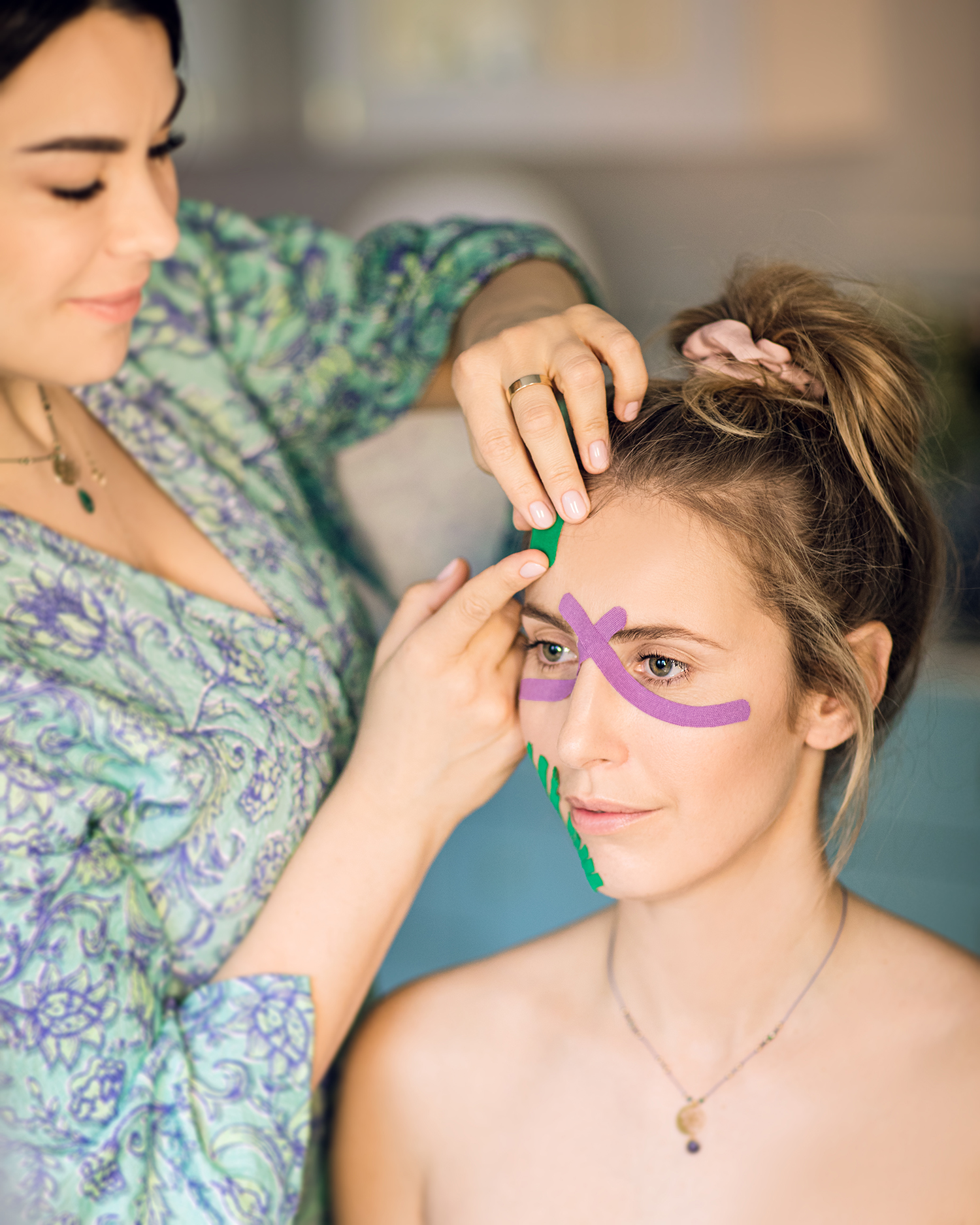 Beautiful breasts mean healthy breasts
Scientific research shows that regular breast massage helps to prevent the formation of lumps and cysts. Their structure consists mostly of body fat, which is prone to accumulation of toxins. Proper self-massage can significantly help the natural process of detoxification, not only of the breasts, but also the whole body.
Adequate blood circulation, qualitative and regular movement of our body tissues, significantly affects the health and bio-aesthetics of our breasts, and in addition, their vitality makes them the basis and foundation for youth and vitality of our face.
This is also where kinesiological tapes come in handy to help model and revitalize your breasts.
All BIO-esthetic kinesiotaping techniques included in the method of facemodeling, effectively deal with the tension and tissue blockages of our face, giving a spectacular effect of gentleness, breasts vitality and health.
I invite you to discover colorful tapes, with the help of my videobooks: